Mission Statement
Established in 1999 by Sally Hamer, RN, LMT, Reiki Master/Teacher, My Private Practice therapy brings unique experiences, intuitiveness and talent to make each session offered an enjoyable and memorable one. Focus is on enhancing health and emphasizing wellness. The goal is to use all skills and talents to promote and encourage healing on the emotional, mental and physical levels.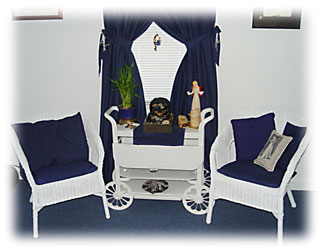 My Private Practice Holistic Center has a warm and welcoming effect on all who enter. The calming atmosphere immediately puts one at ease. Upon entering, one usually stops, takes a breath, sighs, then begins to unwind. The tranquility of the decor and music helps to soothe the soul, quiet the mind and relax the body. And this is all before one's session begins.
Our waiting area offers comfort, teas, water and reading matter. There are four treatment rooms, a bathroom and laundry facilities as well as the main office. Our holistic center is designed to appeal to mind and senses for a total experience of relaxation and healing.
My Private Practice Holistic Center is Handicap Accessible.
Please follow the links to explore the therapies offered.